Located five blocks from the Philadelphia Museum of Art, Eastern State Penitentiary's towering Gothic façade stands in stark contrast to surrounding rowhouses in this North-Central Philadelphia neighborhood.
Built in 1829, the prison's founders tested the religious-inspired theory that solitary confinement could reform criminals by forcing them to reflect on the crimes they had committed, thus inspiring penitence in their otherwise-hardened hearts. Critics of the system (among them author Charles Dickens) considered it to be inhumane, arguing that the mental punishment wrought by isolation could prove even more traumatizing than physical punishment.
In 1913, the system of solitary confinement was abandoned altogether. From that point
forward, prisoners were allowed to eat together in a common dining area, work together, and play sports together in an outdoor commons area.
After upkeep to the aging building became too costly, the prison shut its doors in 1971 and many inmates were transferred to Graterford Prison, 31 miles northeast of the city. City officials intended to raze the building and sell the land for commercial development. However, a small group of dedicated citizens fought to preserve the building for its historical and architectural significance. Nowadays, Eastern State Penitentiary is considered a National Historic Landmark. It is open daily for self-guided tours, group events, and the annual "Terror Behind the Walls," which is one of the nation's most highly-acclaimed Halloween Haunted House events.
—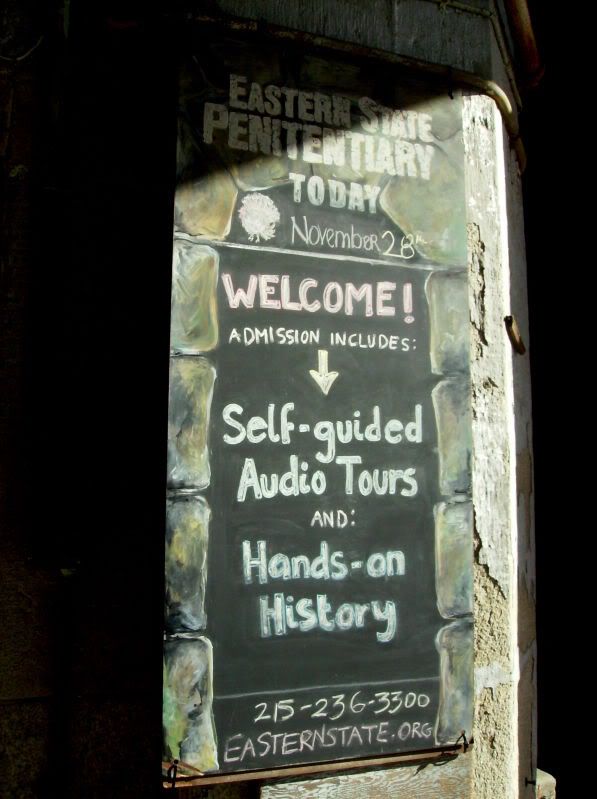 Recently, I took a solitary trip to the prison for a self-guided tour led (via recorded audio) by esteemed actor Steve Buscemi. Although there were plenty of other people around (e.g., fellow tourists and site staff), I quickly learned that touring the site alone is not for the faint of heart. The eerie, crumbling prison is — by some accounts — one of the most haunted buildings in the nation.
After taking a big gulp, I entered the building. Even though it was sunny and in the 60's outdoors that day, the building itself was freezing. Wishing I'd worn a long-sleeve shirt, I held my camera tight and started snapping away. Here are a few of the things I saw:

Cellblock 1 with flash.
r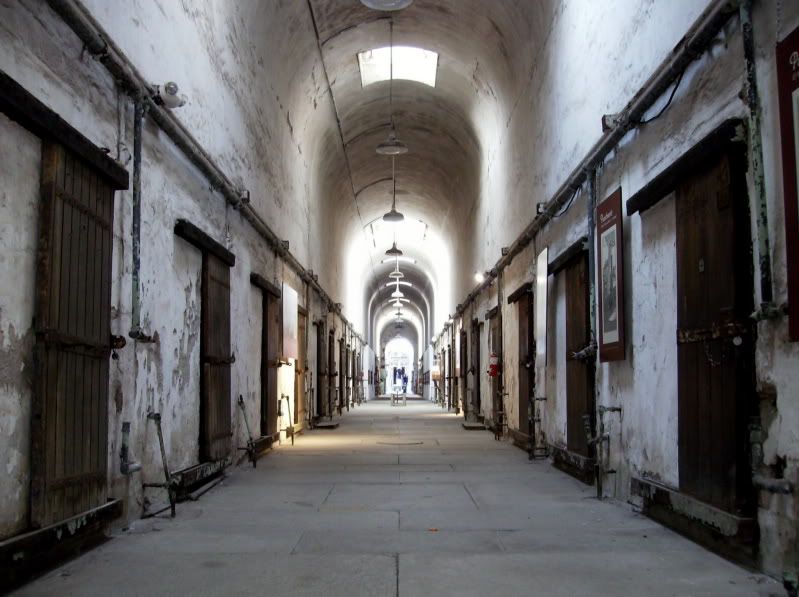 Cellblock 1, no flash.

Example of what an early cell may have looked like.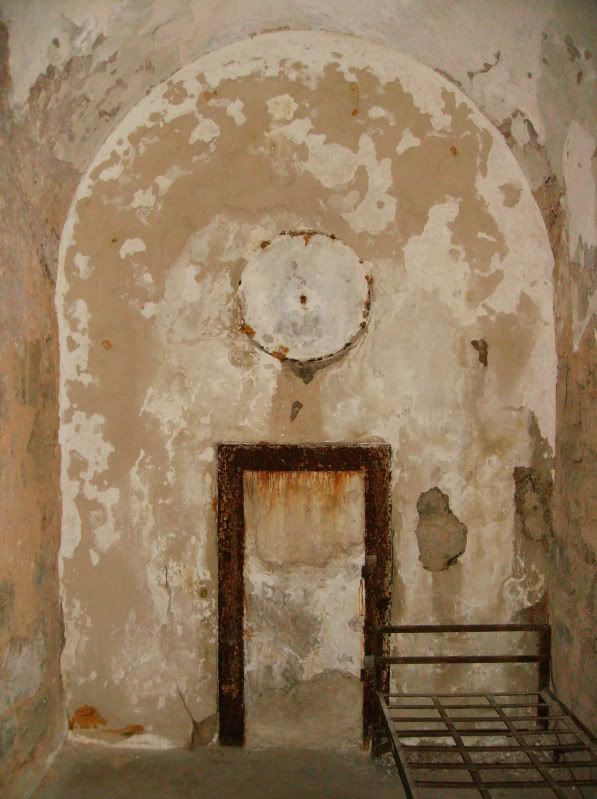 A deteriorating cell. Fun fact: shortly after Eastern State Penitentiary opened for public tours, early visitors were required to wear hard-hats. (This is no longer the case.)

Looking skyward from Cellblock 1.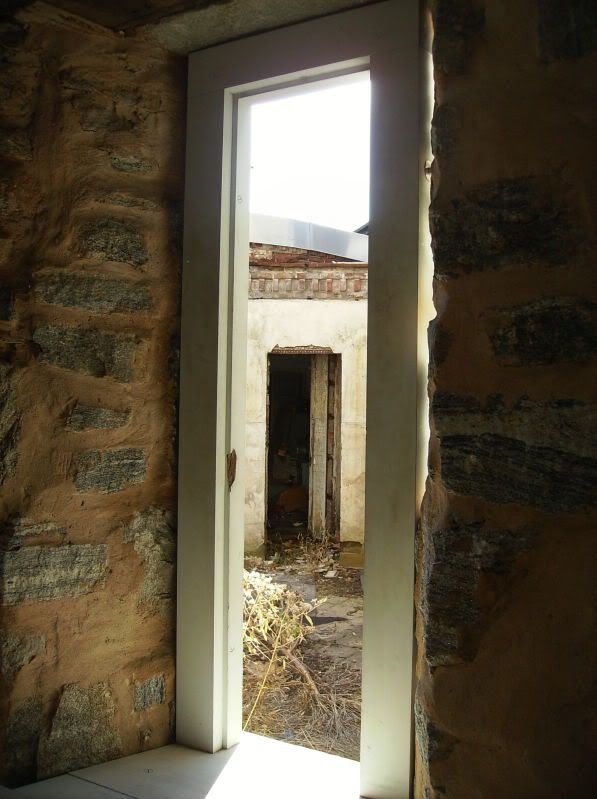 It was such a gorgeous day outside, and I'd chosen to spend part of it visiting the crumbling ruins of
a former prison. (Go figure!)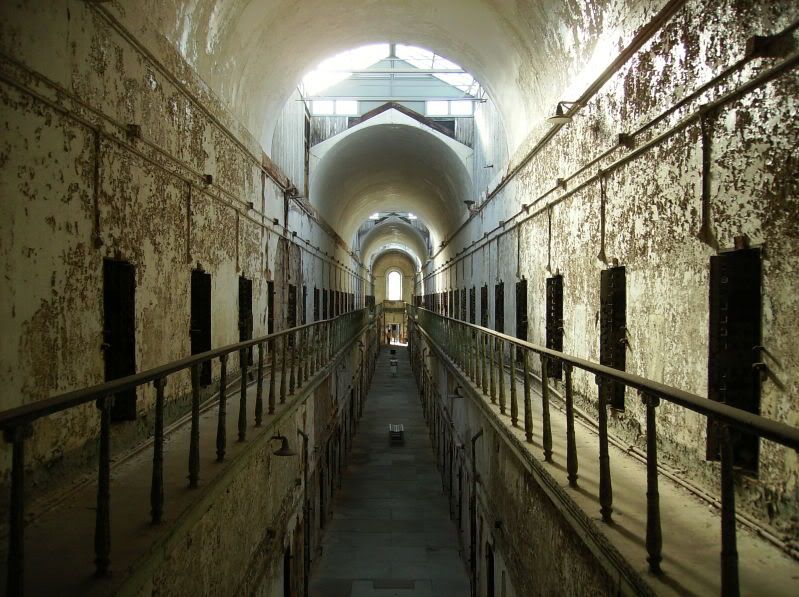 Cellblock 7, no flash.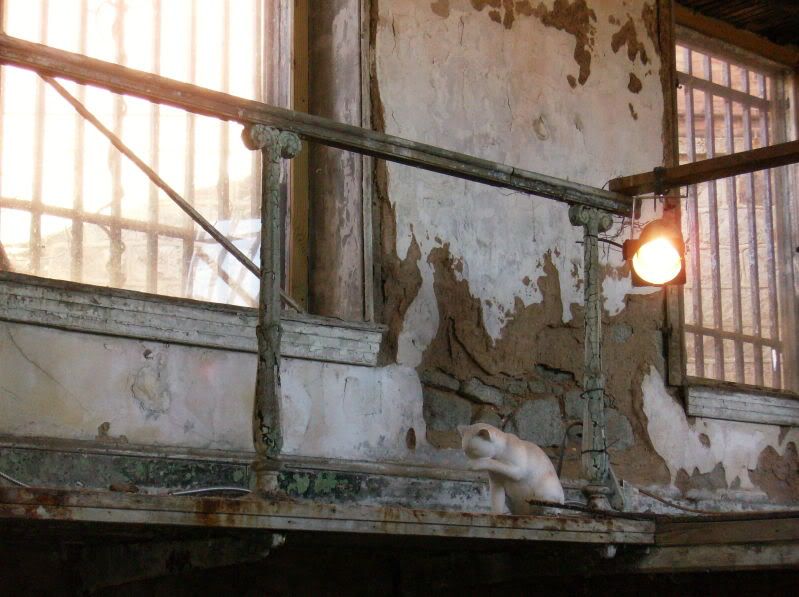 For the record, that's not a real cat. Fun fact: Eastern State Penitentiary was home to many stray cats between the 1970's (after its closure) and the 1990's (when it opened for tours).

View from Cellblock 2 into the Surveillance Hub.

Inscription near the baseball diamond reads "acta non verba," which is Latin for "deeds, not words."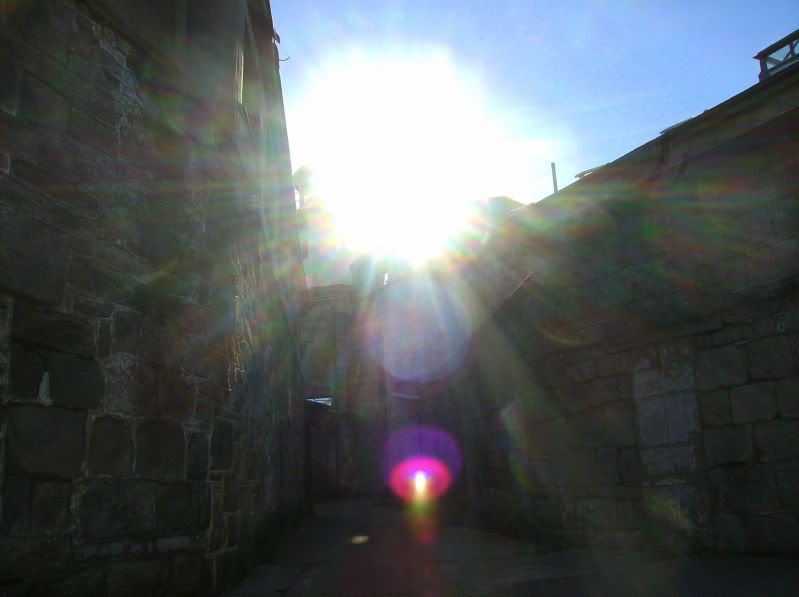 height="384″ />
This picture was taken with my back to the prison's baseball diamond.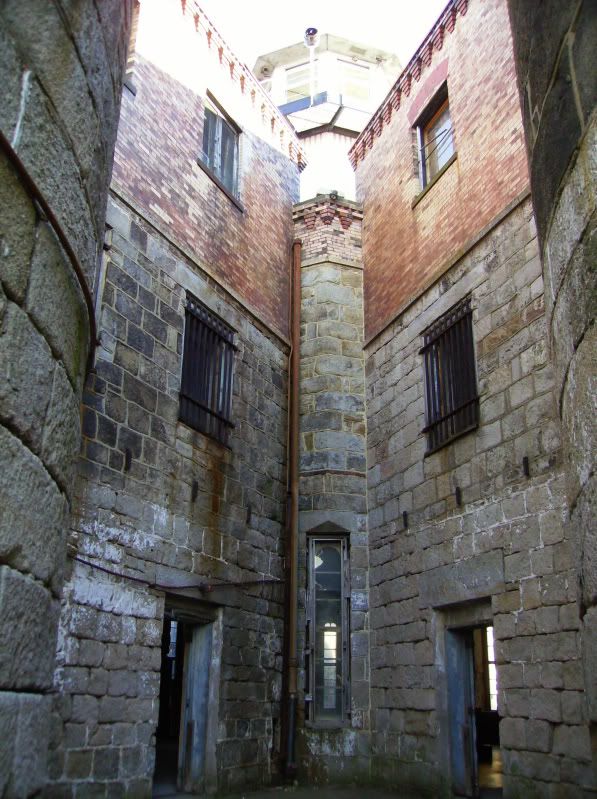 Strolling back indoors, one gets a sense of how imposing the prison structure itself can be.

There are various artist installations scattered throughout the prison. Above is one by artist James Mills, who delves into the genre of "Dark Tourism." According to the placard located next to this installation: "Dark Tourism is the act of travel to sites that have death, suffering, or the macabre as their main theme. Sub genres include Poverty Tourism, Grief Tourism, Suicide Tourism, Assassination Tourism, and Prison Tourism." The address featured is the one where Sharon Tate and others were murdered in 1969. Walking the short outdoor stretch between Cellblocks 7 and 8, leading towards the prison synagogue.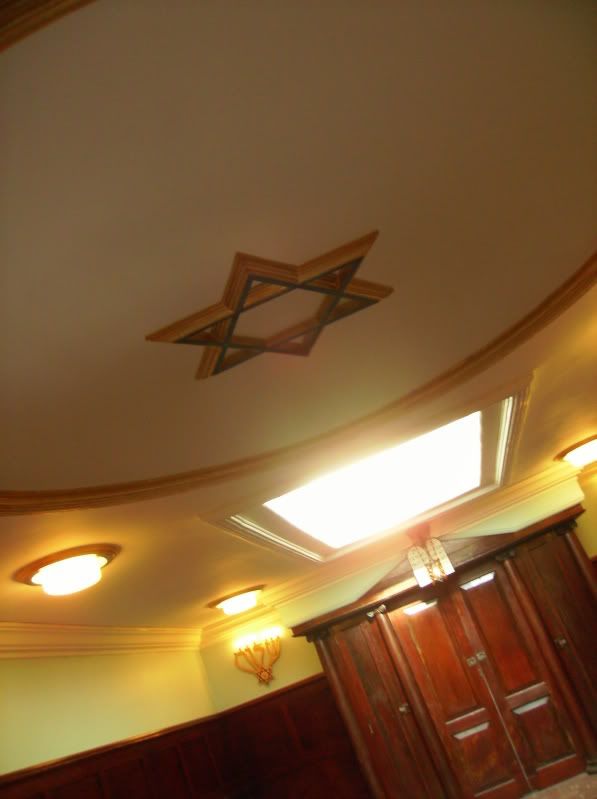 Newly-restored prison synagogue.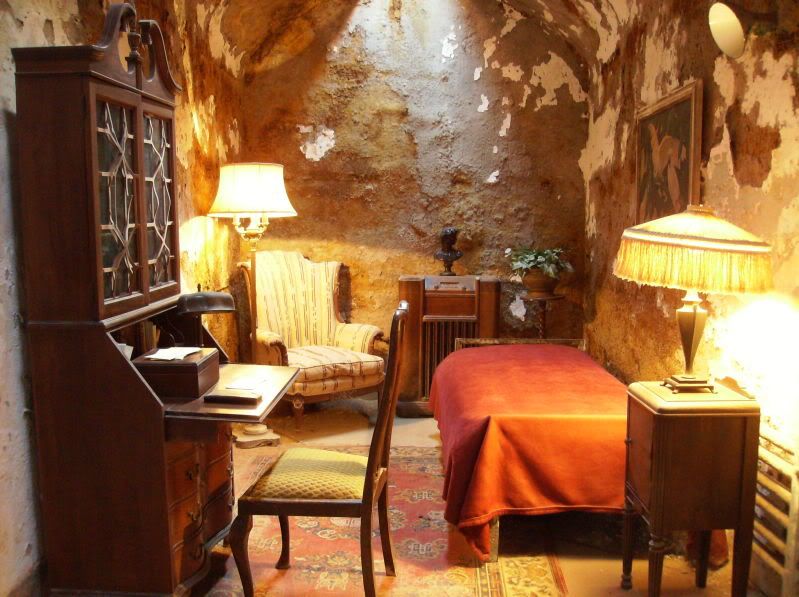 Here is the cell where Al Capone spent a year of his life, serving the maximum sentence for having carried a concealed weapon. There is speculation that he may have pre-meditated his own arrest in order to avoid a rash of mob violence in his native Chicago. Note the exquisite furnishings that he selected for himself, and contrast these with pictures of cells featured above.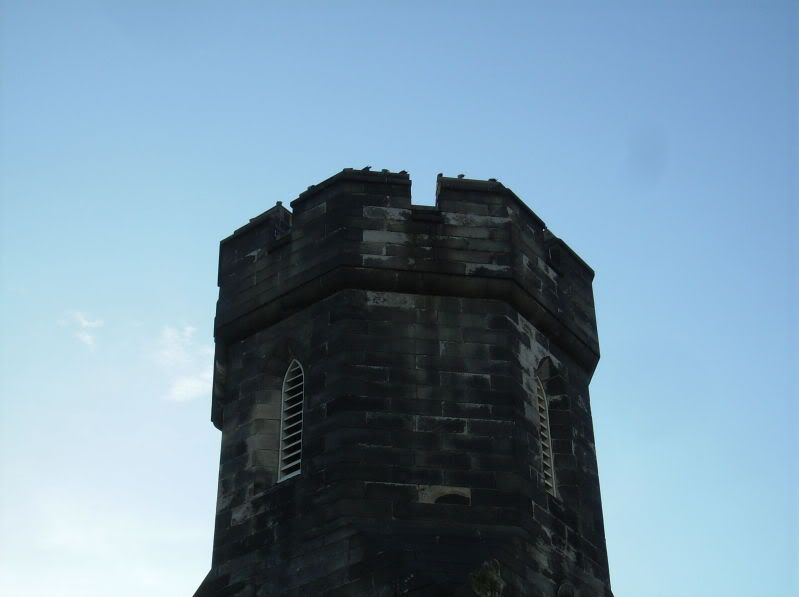 One of the garrisons overlooking the prison.
This picture concludes our virtual tour . . . I hope you've enjoyed it!